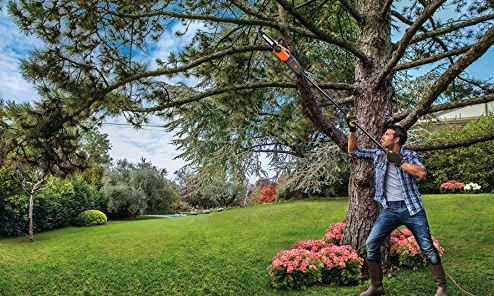 Pole saws are a powerful cutting device used for trimming and pruning plants. It is very tough to maintain the tree branches as they grow up frequently. The Best Cordless Pole Saw will help to take them down. But these tools can be dangerous if you don't use them correctly. Follow these safety tips before start working with your favorite pole saw.
1.Read the instruction manual
Most pole saws come with a guide describing how to use it. It also contains some performance tips, precautions and technical specifications of each part. You have to read it correctly even if you know the process of using the device.
2.Wear protective gears
It is mandatory to wear the proper protective clothes and gears while using the machine. You should put on safety boots and long jeans to enhance your stability. Cover your head with a durable helmet. Mask, hand gloves and goggles will protect your sensitive skin from flying dirt and debris. As a result, you won't get any bruises or scratches. Do not wear too loose clothes or jewelry. Always tie up the hairs so that they won't distract you.
3.Avoid cutting
Pole saws are capable of trimming small branches or pruning limbs. They are not suitable for taking down trees, bushes, and plants. If you try to do so, it may lead to unexpected injuries and accidents. Use other appropriate tools for doing that.
4.Check the working place
Clean the area you are planning to work with a pole saw. Remove all the obstacles which can cause injuries. Keep the children, pets, neighbors, and other people away from that place. Otherwise, they may get hurt by the flying branches. Be sure of working on a stable platform. Don't use a pole saw standing on the rocky, muddy and slippery surface. You can not maintain the balance and fall anytime in such conditions.
5.Check the weather forecasts 
Before heading to your workplace, check the chances of snow, rain, or storm. On rainy days, the surface becomes very slippery. So it is not safe to use any sharp saws. In windy days or storms, there are lots of probabilities to get hut by broken branches. They can cause damages to your saw and your body. Don't work with the pole saw in the dark. Choose sunny days to clean the extra tree limbs.
6.Examine the pole saw
Using a defected saw is the main reason for severe accidents. Make sure the blade of your pole saw is clean. Try to fix the damages teeth of the blade. Check whether any body part, bolts or nut are missing or not. Tighten the pins of the machine. Finally, check the oiling and chain tension.
7.Hold the saw correctly
It is wise to keep the device as upright as the users can. Maintaining it in a parallel position can be very difficult. Use both hands to move the machine. Avoid providingso much pressure to the saw.
8.Keep a safe distance
Avoid standing under the limbs you are cutting. Keep your body especially head away from the branches you will be pruning. Otherwise, the users may get hurt by falling limbs.