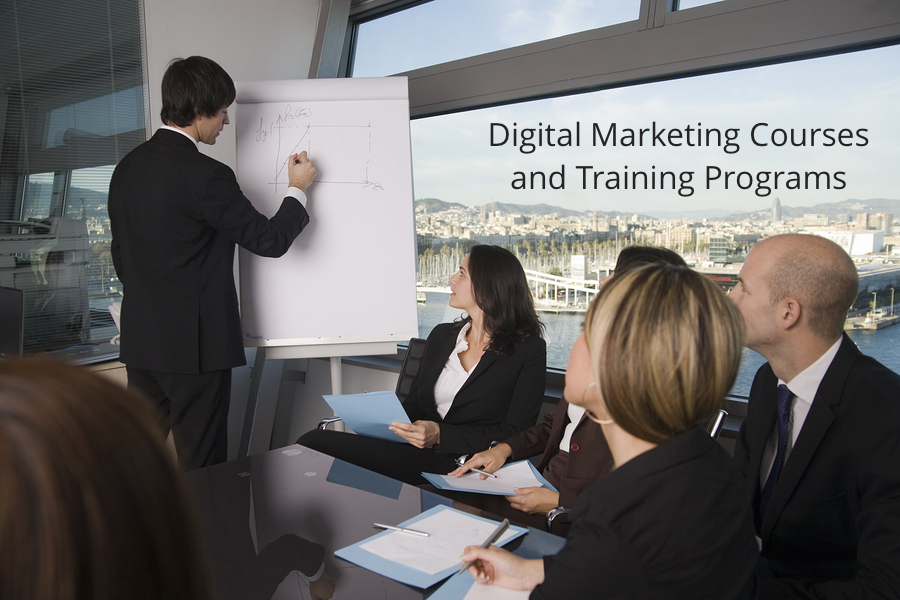 Digital marketing course is designed to facilitate individuals master the essential disciplines in digital marketing including Search Engine Optimisation (SEO), Pay-Per-Click (PPC), Social Media Marketing (SMM), Search Engine Marketing (SEM), Web analytics, Conversion optimisation, Mobile and Email marketing, and Content marketing. The digital evolution in the last many years has completely transformed the way people communicate and learn.With the Indian Internet population at over 500 million users, the digital marketing industry is rapidly growing. With the industry presenting a massive projected growth potential and an expected dearth of skilled professionals, several students, graduates and young professionals are looking to get on the digital marketing bandwagon. Hence, if you are looking at pursuing a course in digital marketing where not only you get exposed to the nuances of digital marketing, but you also get to learn how to use the core theoretical concepts and your practical training to apply in the larger framework of digital marketing strategies, then you need to select the best digital marketing course. Here are some of the popular digital marketing courses which will save you time in research
Digital Vidya
Digital Vidya is Asia's leading digital marketing training institute and the first to launchthe SMM course in India that is Online Learning Platform .They offer 9 certification courses in both weekday and weekend batches and facilitates students in mastering the skills and expertise of SEO, SEM, SMM, FB marketing, Growth hacking, Inbound marketing, Email marketing, Google AdWords, and Web analytics. All these courses are online, instructor-led and come with lifetime access, research-based internship, support and with Govt. of India certification.  They also have their flagship 6 months Certified Digital Marketing Master (CDMM) course, and upon completion ofthe course, students are eligible to appear in the CDMM certification exam jointly offered by VSkills (A Govt. of India initiative) and Digital Vidya.Furthermore, theyhave an active placement cell with digital marketing job opportunities for their students.
The total fee for the course range fromINR 11900 to INR 58900. For further details, you can visit https://www.digitalvidya.com
Simplilearn
Simplilearn is one of the foremost platforms for online training and professional certification programs, offering certification programs in more than 300 plus courses. Along with theoretical knowledge, they also offer hands-on experience in various digital marketing domains. Simplilearn offers Online Marketing Certification Program (OMCP) course which enablesstudents to gain a comprehensive understanding of the various digital marketing disciplines such SEO,  SMM, PPC, Website conversion rate optimisation, Web analytics, Mobile marketing, Email marketing, Content marketing, Marketing automation, Digital marketing strategy, and Programmatic buying.Their Digital Marketing Certified Associate Training (DMCA) program will facilitate students in masteringplatforms and tools such as Google Analytics, Twitter, AdWords, Facebook, and YouTube, and the way of reaching the masses using them.Simplilearnteaching comes in two packages, that is, self-paced learning and online flexi-pass.
The total fee for the course is around INR 13000 for self-paced learning and INR 21000 for an online-flexi pass. For further details, you can visit https://www.simplilearn.com
Delhi School of Internet Marketing
DSIM offers a comprehensive and advanced digital marketing classroom course for job-seekers, working professionals,and for business owners at their training centres in Bangalore and Delhi. They also conduct online instructor-led classes on weekends. The institute not only offers full-fledged classroom training but also provides a complete insight into how to reach the right target market with a lower acquisition cost in the best way possible.Their digital marketing program provides knowledge on 17 different modules of digital marketing as well as practical exposure. DSIM provides interactive, learning sessions by knowledgeable trainers who help students evolve to the next level of marketing by upgrading their digital marketing skills.
The total fee for the course is around INR 66500. For further details, you can visithttps://dsim.in/
NIIT Imperia
NIIT offersstudents a certificate in digital marketing together with a CDM program. They have partnered with the Digital Marketing Institute (DMI), Ireland for thecontent and course materials. For individuals seeking better qualifications and increasing their expertise, NIIT offers a course which covers a broad range of topics such as Web analytics, Mobile marketing, advanced digital marketing, and SEO courses. Apart from this, NIIT also offers two 6 months digital marketing courses for graduates and working professionals, namely, an Executive program in social and digital media strategy from IIM Calcutta and an advanced program in digital marketing strategy from IIM, Lucknow.  Apart from the course completion certification, students of these courses will receive the IIM alumni status
The total fee for the course is around INR 37500. For further details, you can visit  https://www.niit.com/india/
UPGrad
UpGrad's program is comparatively new which offers top digital marketing programs. The quality of their training is exceptional and their training methodology comprises three elements, that is, learning specific facets of various marketing concepts, experiencing those concepts by listening to experts talk regarding their challenges, and application of those concepts for real-life business requirements. Their 5 month PG certification in Digital Marketing and Communication (PGDMC) program will help students learn digital strategies and tools on SEO, Website building, Display,SEM,Social media, Email, mobile and inbound marketing, Analytics, Sales integration, Digital communities and Building digital marketing plans.
The total fee for the course is around INR 70000. For further details, you can visit https://www.upgrad.com
Internet and Mobile Research Institute (IMRI)
IMRI is a full-time global digital media training centre.IMRI is the first and only experiential learning centre that enable students to maximise utilisation of all online resources while facilitating them in adapting to a career in online marketing. With a state-of-the-art interactive classroom, a computer lab, and a digital library, IMRI helps studentsrefine their digital skills to meet the global need for well-trained marketing professionals. IMRI offers several digital marketing training programs ranging from 2 months to 1 year. IMRI also offers students free brand identity and image building, hands-on experience, multiple projects, career guidance, personal brand marketing, and resume and mock-up interviews.  At IMRI, students can look to enhance core competencies, learn complexities of SMM along with hands-on job experience.
The total fee for the course range from INR 35000 to INR 75000. For further details, you can visit https://imri.in/
Edukart
As India's biggest platform for enrollment into diploma programs, online education courses, and distance degrees, Edukart offer students with access to short-term and long-term high-quality programs. They offer a 6-month online certificate course in Digital marketing, certified by Internet and Mobile Association of India (IAMAI). On completion of the course, students shall enjoy the benefit of an IAMAI certification as well as receive an Edukart'Rating of Employability'. The ratings will enable employers to check the credentials of thesestudents at the time of interviews, where the students candemonstrate their knowledge about the industry.
The total fee for the course is around INR 30000. For further details, you can visit https://www.tgcindia.com/
AIMA
AIMA offers a Professional Certification Program in Digital Marketing and Analytics (PCPDMA), which includes online classroom training. The course is set for 3 months and is segregated into 6 modulescomprising SEO, On-Page and Off-Page optimisation, SEM, SMM, Web analytics and Email marketing. There is also skills and advance certification for management professionals and corporate training for entrepreneurs.
The total fee for the course is around INR 36000.For further details, you can visit https://www.aima.in