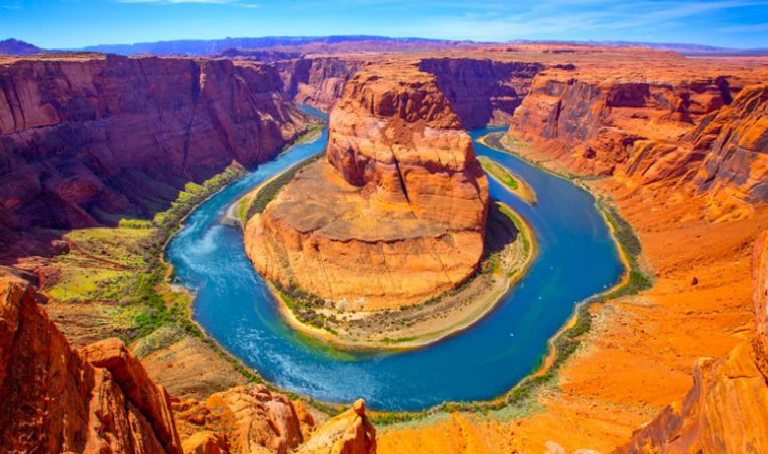 Carved by wind and weather, these rocky landscapes will have something to impress you with their curves and their staggering colors!
1. The Wave, United States
Located near the border of Arizona and Utah, this rock formation is part of the Paria Canyon-Vermilion Cliffs Wilderness. 19 feet wide and 38 meters long, The Wave has unusual shaped walls carved by the wind and the slow erosion of the rain.
2. Giant's Causeway, Ireland
This volcanic formation located on the coast of Northern Ireland is characterized by approximately 40,000 vertical hexagonal columns juxtaposed. Listed on the UNESCO World Heritage List since 1986, the site was created by the action of the sea.
3. General Carrera Lake, Chile and Argentina
This lake is in Patagonia, on the border between Argentina and Chile. With a surface area of ​​1,850 square kilometers, it is known for its Catedral de Mármol ("marble cathedral"), a rock located in the middle (in Chilean territory) and composed of whitish-colored rocks.
4. Reed Flute Cave, China
Located in Guilin, in the Guangxi region, this cave is made of limestone rocks illuminated with all kinds of colors. The Reed Flute Cave is filled with stalactites, stalagmites and rock formations of various shapes.
5. Horseshoe Bend, United States
The Horseshoe Bend is the name of a meander of the Colorado River in Arizona. Corresponding to an old eroded plateau, this site impresses with its palette of bright colors: rocks with ocher shades and beautiful gradient of Colorado green. To discover at any time of the day
6. Ao Phang Nga National Park, Thailand
Located in the province of Phang Nga in the south of the country, this natural park fascinates with its huge blocks of limestone rocks devoured by vegetation. The landscape is called "karstic" because it was shaped in limestone rocks and developed cavities by groundwater circulation.
7. Painted Cliffs, Australia
Maria Island National Park in Tasmania is known for its sandstone cliffs, better known as "Painted Cliffs". They are actually rock formations shaped by the movement of water and sediment that lodge there. To discover at low tide!
8. Zhangjiaje Forest Park, China
Listed as a UNESCO World Heritage Site since 1992, this park in Hunan Province has a surprising biodiversity, along with several rare trees and large sandstone rock formations. The park is one of the places that inspired scenes from James Cameron's movie Avatar.
9. Drangarnir, Denmark
Located on the Vágar Island of the Faroe Islands, a territory belonging to Denmark, this vertical geological formation has been sculpted by the action of wind and sea.
10. Devil's Tower, United States
The "Devil's Tower" is a monolith located in northeastern Wyoming. At a height of 386 meters above the surrounding land, its summit is 1,558 meters high. This rock is the result of the rising of the Rocky Mountains at the beginning of the Cretaceous geological period