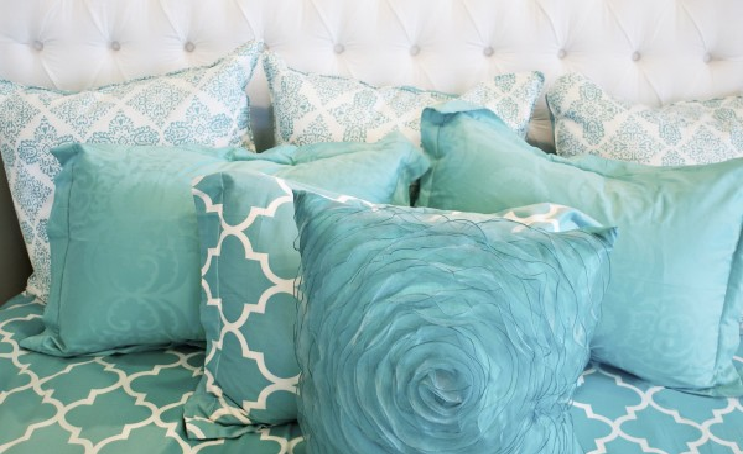 With a few basic changes, you can give a room a whole new look. Here are some simple and cheap decoration ideas.
1. Hang a graphic quilt
You have a big white wall that you do not know what to do? Hanging a graphic quilt might be the answer.
It will create a beautiful focal point in the room and add a graphic element without making any other changes.
2. Choose a unique bedspread
A bedspread in bold colors or printed creates a point of interest in a room.
You can choose a pattern that matches your walls or furniture to create a sense of coherence in the room.
3. Use bold patterns for furniture and accessories
Bold designs are not just for bedspreads.
Choose bold patterns on your lampshades, cushions and upholstered chairs.
4. Add some cushions
The cushions make it easy to change the appearance of a room without much effort.
They do not usually cost much, and if you have walls and furniture in neutral colors, you can easily transform a room's color palette by simply changing the hue and pattern on the cushions.
5. Try the silk flowers
If you love to have flowers at home but can not afford to constantly buy and replace fresh flowers, silk flowers are what you need.
You can buy them individually or in floral arrangement. They enrich the appearance of any room.
6. Use open shelves to expose your beautiful objects
Shelves are not just for books.
They can be used to easily display your favorite photo frames, artwork, vases and other decorative items.
7. Beautify the room with a special headboard
A decorative headboard can actually work wonders in your bedroom.
With a flowery frame or whimsical curves, it can give a luxurious appearance to something simple.
8. Use wall art
Wall art is a simple way to change the look of a room without completely transforming it.
You can turn a wall into a gallery with multiple frames of different sizes, colors and shapes.
Frame your favorite pictures, quotes, photos or artwork.
In short, transforming the appearance of a room in your home is not necessarily a big project, or overpriced.